Name our distillery's road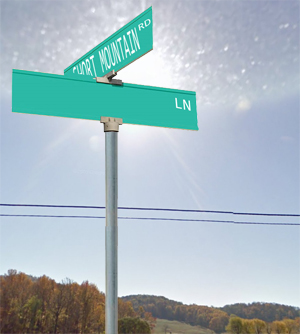 You can probably guess that Short Mountain Distillery is located on Short Mountain, but try telling that to your GPS.
And try telling visitors to meet you at the barns a few times. That's when we thought about getting an address.
After calling around we found out the drive on the farm is so long it qualifies as a lane they'd like for us to name.
It sounds like an awesome opportunity, but we sure could use your help. What do you suggest we name our lane? Your idea could become a part of our history.
Here's what our address would look like:
Short Mountain Distillery
__________ Ln.
Woodbury, TN 37190
UPDATE 02/23/11 10:04 a.m.: It's Official! Short Mountain Distillery will be located at 119 Mountain Spirits Lane, Woodburry, TN 37190!
We want to thank everyone for your amazing suggestions as we considered names for our road. You are helping us build an American brand we can all be proud of.
A lot of you used "Spirits" and "Mountain" in various way, but two of you actually suggested our name: John and Jelly below and Zendel Murphy on Facebook. Thank you for your role in our history, and we'll be in touch to figure out the best way to thank you.