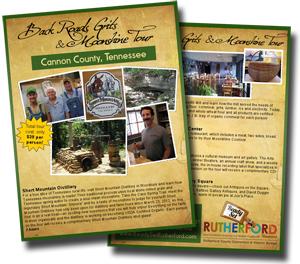 Sometimes it's good to leave the driving to someone that knows all the back roads when searching for Tennessee's hidden treasures. That's the idea behind a new bus tour that will soon bring visitors on a day trip through Cannon County!
The bus tour is a joint project between folks at the Rutherford and Cannon County Chambers of Commerce eager to share a slice of our history and heritage with the world.
The day long bus tour takes visitors to Short Mountain Distillery to see how authentic Tennessee Moonshine is made on a 300 acre working farm. The distillery uses traditional processes, organically grown corn that's stone-milled on site and water from a natural cave spring. Visitors will then see how the community once relied on the power of the Stones River to mill grains at the historic Readyville Mill. Lunch will be provided by the Blue Porch @ the Arts Center where visitors can learn how local folk crafts of basket and chair making kept families fed during the Great Depression. The day will wrap up with antique shopping on the square in Woodbury, TN.
At each stop our guests will receive complimentary gifts to go along with the warm smiles and hospitality you could only find on a day's adventures through rural America.
This tour is not for individuals, but if you are interested in taking this tour with a pre-formed group of friends, co-workers or civic groups who already have motor coach service, contact the Rutherford County Convention & Visitors Bureau's Barbara Wolke at (615) 278-2327 or visit ReadySetRutherford.com. Tickets are $39 per person and includes lunch and gifts. We look forward to seeing you in Cannon County!
Categories:
events, history, resources, tourism
Arts Center of Cannon County, bus tour, Cannon County, distillery, grits, moonshine, Readyville Mill, Short Mountain, Tennessee, tourism