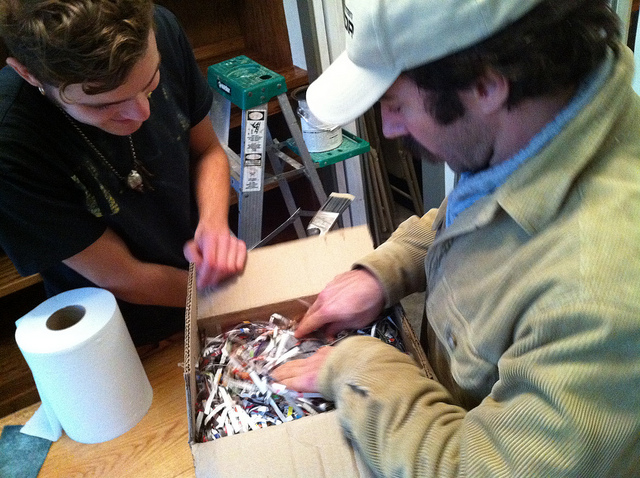 Sacha and Billy open one of the boxes of Golden Rule coins.
Billy's great grandfather, Jesse Shwayder, never missed an opportunity to attribute the success of the iconic American brand Samsonite to the Golden Rule. He even went out of his way to communicate this deeply held philosophy in a very special way as mentioned in this TIME magazine article from 1965.
The world's largest manufacturer of luggage is named after the Bible's powerful Samson. Its president has a name to match: King David. The firm's official corporate philosophy is the Bible's Golden Rule: "Do unto others as you would have them do unto you."* All company officers and salesmen carry a marble encircled by a gold band on which the Golden Rule is printed, take it out for inspiration when they have a business decision to make.

This philosophical approach — wedded to some pragmatic business practices—has paid off handsomely for Denver's Samsonite Corp. The firm now accounts for more than a quarter of all U.S. luggage sold, and its sales last year reached a record $55.9 million. Last week, as orders from vacation-bound Americans flooded into Denver, Samsonite raised its 1965 sales estimate from $60 million to $64 million.
Last week, a package arrived with a very special coin inside that will come with every bottle of our authentic Tennessee Moonshine, Short Mountain Shine. They're Golden Rule coins bearing the moon and the stars, and we hope they shine a little light into your world.
Categories:
distillery, moonshine, tourism, values
Billy Kaufman, coin, distillery, Golden Rule, Jesse Shwayder, marble, medallion, Short Mountain