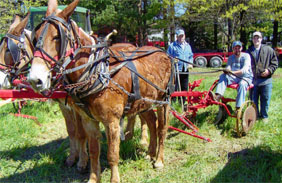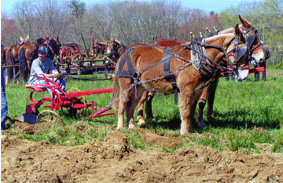 About every weekend in April, a few local mule teams from the Middle Tennessee Muleskinners Association will give us a hand discing and planting 7 acres of organic corn on the farm.
The Farmer's Almanac said moon phases favor May 3 – May 10 for planting corn in Woodbury, TN. Some tell us to wait until the the oak leaf buds are as big as a squirrel's ears, but after this weekend we can't stand to wait any longer.
Nature has its way of telling you when it's right. It's an old fashioned way of doing things up on the mountain, but it gets the job done.
Our t-shirts are here! Celebrate Spring Planting 2011 with a t-shirt from our online General Store, or email John Whittemore (if you can't catch him in town) or call him 615-971-4925.
These shirts are made in the USA and screen printed in Murfreesboro, TN. They commemorate this year's Spring planting of our first organic corn with some very special help from our friends and neighbors at the Middle Tennessee Muleskinners Association.
Categories:
distillery, permaculture, progress
Cannon County, corn, Middle Tennessee, moonshine, mule, muleskinners, organic, planting, Short Mountain, Spring, whiskey