Signature gathering for referendum begins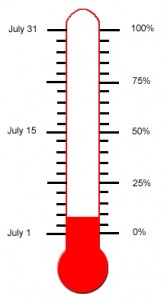 A couple of days ago we started slowly gathering signatures from our friends and neighbors who want to see a new opportunity for jobs and growth come to Cannon County.
As of today, we're 7% of the way to our goal.
Starting July 1, you can start checking the thermometer here daily to see how close we are to the total number of  signatures we need to place a referendum on the November ballot. That will allow voters to decide whether they want to allow distilleries like the one that opens this weekend in Gatlinburg, TN or the Jack Daniel's and George Dickel distilleries.
How to help: We've gotten a few folks contact us letting us know they want to sign our petition. If you would like for us to visit you, please remember to include your address and phone number so we can make sure you'll be home. Let us know if you would like to help gather signatures as well. Only registered voters of Cannon County are eligible to sign the petition.
In the news: Don't miss the article on our effort in this week's Cannon Courier. If you are registered for their website, you can read the story here.
Our friends: One of the guys helping gather signatures is a long time Cannon County resident and farmer John Whittemore.  John's great grandfather was a moonshiner in Cannon County. John's on Facebook if you want to speak with him about helping us out. Check back later this week for more information about John and why he's helping.