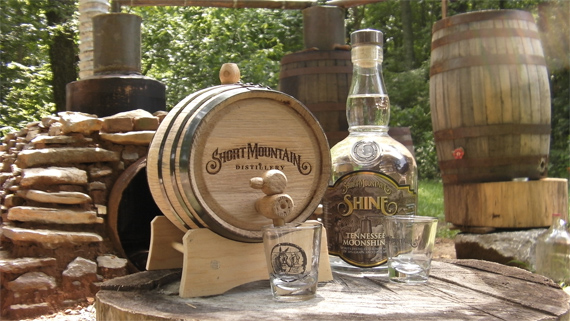 They're here! Short Mountain Mini Barrels available at the Still House Store Saturday Sept. 1
Make your own Barrel Charred Shine
Give your authentic Tennessee Moonshine the age of a fine Bourbon with our 2 liter Short Mountain Mini Barrels. Each new charred White Oak barrel fits two 750ml bottles of spirit and can be used several times with proper care. Making "charred Shine" takes days as opposed to months or years in larger barrels.
Short Mountain Mini Barrels retail for $55 and will be available at Short Mountain Distillery starting Saturday September 1. They will be available online in October. Each mini barrel includes the barrel, bung, spout, stand, instructions and sanitizer.
Charred Shine can be enjoyed like a fine Bourbon as a drink or in food products such as: Charred Shine BBQ sauces, donut glazes, or flavoring in chilies, soups or baked sweet treats.
How To Use Short Mountain Mini Barrels
Be sure spout is secure in the barrel. Remove bung, fill with warm water, close, wrap with a moist towel for a few hours. This will swell and seal the oak wood.
Remove water. Select a fine unaged whiskey, like Short Mountain Shine! Pour into barrel and leave to age to preferred taste. Enjoy your charred Shine responsibly!
Proper care and tips:
Keep barrel in alternating warm and cool environments to expand and contract spirits in and out of the oak.
If storing barrel between uses, use enclosed sulfite tablet for at least a day before rinsing and reusing, especially if using well water. Dissolve pill in water, pour water into barrel and allow to sit for a day to sanitize if using well water. Do not allow barrel to dry out and crack. Wrap with moist towel to seal any external cracks.
Remove bung when using spout to allow spirit to flow.
Categories:
distillery, food, merchandise, recipe
age, barrel charred shine, bourbon, Cannon County, charred shine, mini barrel, moonshine, Short Mountain, Tennessee, whiskey, white oak