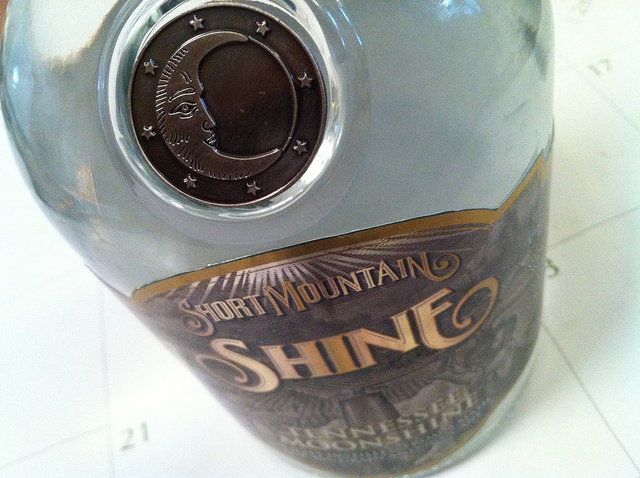 Yesterday, I showed you a glimpse of our federally approved label for Short Mountain Shine along with the news that we signed distribution deals with all four regions of the state of Tennessee.
I thought I'd throw this photo of the bottle out there after a failed attempt yesterday to photograph the bottle for an upcoming tourism pamphlet. This isn't an image we'd use, but it showed just enough to tease, and I'm a teaser. You can tell we used a sample label sent to us by our printer.
You'll be able to taste a sample and purchase a bottle at our distillery on Short Mountain in Woodbury, TN once we open in late March. Shortly after that, it will be in stores throughout Middle Tennessee's 36 county distribution region.
If it sounds familiar, that's because it's already famous. Most old-timers in Middle Tennessee know something about it, and it was sung about by Uncle Dave Macon on the October 1939 NBC television debut of the Grand Ole Opry. Who knows? Maybe one day the bottle will make a special appearance on one of country music's biggest nights.
Short Mountain Shine is a respectable 105 proof authentic Tennessee Moonshine made from a family recipe handed down for generations. As Billy likes to say, "It's the best moonshine ever made, made even better."