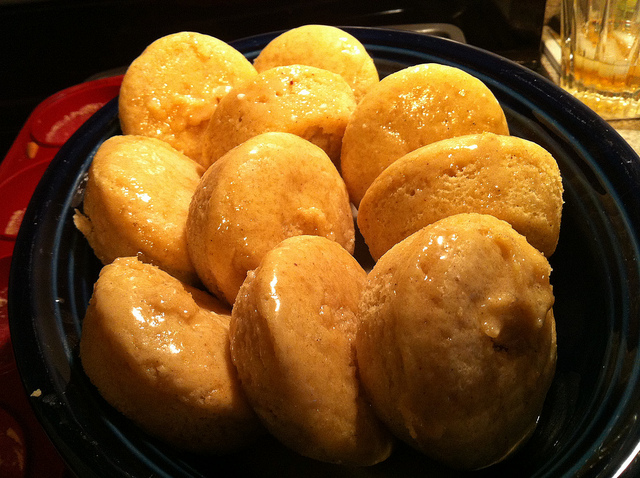 These really wanted to be donuts. I found this recipe for Bourbon glazed donuts that pretty much read my mind, except the part where I don't have a donut pan and the thought that this recipe is a little light on the bourbon.
Here's my slightly modified version turning them into stunted cupcakes. It makes 12 donuts if you do it right. I used a cupcake thing and came out with about 15 adolescent cupcakes.
2 cups all-purpose flour
3/4 cup white sugar
2 tsp. baking powder
1/4 tsp. ground nutmeg
1/4 tsp. ground cinnamon
1 tsp. salt
3/4 cup milk
2 eggs, beaten
1/2 cup Buffalo Trace Bourbon
1 Tbsp. melted butter
Pre-heat the oven to 325 F. Mix all the dry ingredients. Mix the milk, eggs, melted butter and 1/4 tsp. of bourbon. Mix the wet and dry ingredients. Pour a pitiful half an inch or so into each cupcake thing.
Cook the donut cupcakes for 8 minutes, then check and realize you probably need about 4 more minutes. I did. I could tell because when I lightly pressed the tops I saw batter.
While this is cooking, make the Bourbon glaze by mixing 1 cup powdered sugar, 1/4 cup real maple syrup and 1/4 cup heavy cream, about 1/4 cup of bourbon. It makes way too much, but you can taste it a lot and probably save it.
When the donut cupcakes are done, get a glass with a few pieces of ice and pour the remaining bourbon in the glass. Let the cupcakes cool and then drizzle that bourbon glaze over them and eat a few with the rest of your bourbon.