Tennessee Crossroads takes you to an annual tradition that honors our agricultural heritage.
Ever since the 1840s, Columbia, TN has played host to an annual gathering of mule breeders. Once called "Breeder's Day," the annual Mule Day Parade is now attended by over 200,000 people from around the world.
This year's Mule Day is March 31 – April 3 in Columbia. There's square dancing, crafts, a mule-driving contest as well as "working mule", "best of breed", and even lumberjack competitions. You might even see a few of the guys who will soon plow and disc our first organic corn crops.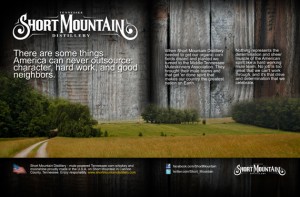 Watch the video above from Tennessee Crossroads and learn about the role mules once played in shipping goods throughout our communities.
If you plan on attending this year, be sure to pick you up a copy of Dixie Longears. Short Mountain Distillery is a proud sponsor (see our center spread) of this inaugural magazine for mule enthusiasts across the country.
As you might have guessed, we like mules.
Categories:
distillery, events, history, values
Cannon County, Columbia, distillery, moonshine, Mule Day, Short Mountain, Tennessee, tradition, whiskey