Building the Tennessee Whiskey Trail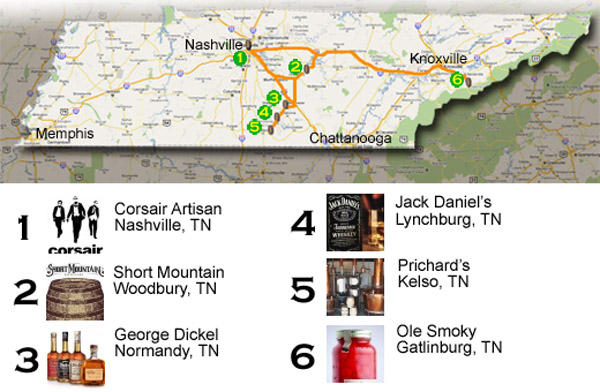 A release published Thursday from the Kentucky Distillers' Association highlights a challenge and an opportunity for the growing number of distilleries in the state of Tennessee.
A record 11,757 people visited all six distilleries on the Kentucky Bourbon Trail® tour in 2011, far surpassing the previous mark of 9,402 set in 2010, the Kentucky Distillers' Association announced today. Visitors came from all 50 states and 16 countries, the KDA reported.
What's immediately obvious is that the report isn't from the state of Kentucky or its tourism board. It's from an association with much more interest in the success of its members and their place in the community and its history. Up until a recent change in state law, Tennessee only had three distilleries: Jack Daniel's (Lynchburg), George Dickel (Normandy) and Prichard's (Kelso – the only Tennessee owned distillery).
Today we have six permitted distilleries in the state of Tennessee with the additions of Tennessee-owned Ole Smoky (Gatlinburg), Short Mountain Distillery (Woodbury), and Kentucky-owned Corsair (Nashville). That brings the total to three Tennessee-owned distilleries. and more are on the way.
A quick look at the state of Tennessee's effort to promote tourism illustrates another opportunity for distilleries to organize under a Tennessee Distillers' Association. The closest effort to promote our industry and state heritage is something called the "White Lightning Trail." Curiously absent from the listed points of interest is any one of the state's distilleries, but it does include the Pizza Palace, Buttermilk Donut Shoppe, and the Knoxville Botanical Garden and Arboretum.
The next closest effort by the state of Tennessee to promote distilleries is literally named after Kentucky-owned Jack Daniel's: "The Jack Trail." Ironically, it's the one trail Tennessee has corporately branded. Among the more than 326 listed attractions that would take you weeks to visit are: Nissan, JG's Pizza &  Steakhouse, the Nashville Zoo and countless churches, government buildings and entire cities. The trail does include Jack Daniel's, George Dickell and Prichard's, but it's so unfocused you'd never find them listed.
What the state needs is The Tennessee Whiskey Trail that takes visitors on a focused journey through our state's deep history and heritage of whiskey making. As a couple of things here illustrate, this might be better handled by Tennessee's distillers themselves.